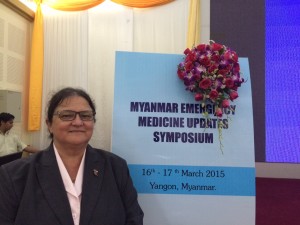 I am passionate about EKGs.  I have studied and collected EKGs for over 30 years, the entire time as an emergency medicine physician.  For the last 15 years I have been the "EKG geek" in the emergency department at Baystate Medical Center in Springfield, Massachusetts, and have had the pleasure of teaching scores of wonderful emergency medicine residents, as well as medical students from Tufts University School of Medicine.  More recently I have been able to transfer this fund of knowledge to broader audiences at both national and international venues—from Poland to Argentina to Myanmar.
This website is designed to be the repository of my extensive collection of EKGs and some of the curriculum tools I have developed, including EKG of the Week, EKG examples, and presentations that I have given (both PowerPoint presentations and accompanying handouts).  With unrestricted access to this material I hope others will be able to develop their expertise in interpreting EKGs in emergency medicine or other acute care settings, and perhaps develop or expand their own EKG curriculum.
On a busy, chaotic shift in the ED nothing can make me smile quite like being asked to review an EKG with a resident or colleague.  In that light, I really do invite your comments and questions, or send me an interesting EKG (I'll reference you if we publish it as an EKG of the Week).
Contact me via:
Email: susan@torreyekg.com
Twitter: @STorreyMD
Susan P. Torrey, MD, FACEP, FAAEM
Current Academic Status
Faculty, Department of Emergency Medicine
Baystate Medical Center, Springfield, Massachusetts
Associate Professor of Emergency Medicine
Tufts University School of Medicine, Boston, Massachusetts
Education
University of Connecticut Health Center, Farmington, Connecticut
Intern and resident, July 1981 – June 1984
University of Vermont College of Medicine, Burlington, Vermont
Doctor of Medicine, 1981
Yale University, New Haven, Connecticut
Bachelor of Science, 1977